A Message from the Director
Greetings, and thank you for your interest in the Center for Meteorite Studies at Arizona State University!
Here in Arizona we have inherited a great legacy for research and education on meteorites. Arizona was home to Harvey H. Nininger (1887-1986), a self-taught meteorite scientist and collector who is considered by many to be the father of the science of meteoritics. In his career he published nine books and over a hundred scientific articles,
and avidly collected meteorites around the world. In the 1941 book "Between the Planets", Dr. Fletcher
Watson of H
arvard University wrote that
half of all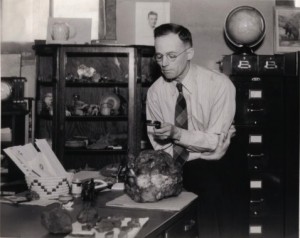 the meteorite discoveries in the world at that time could be attributed to Nininger. The Center for Meteorite Studies was established in 1961, following the purchase of a significant portion of his collection. Throughout his life and career, Harvey Nininger never stopped looking for meteorites, never stopped studying them, and never stopped teaching and educating people about them.
H.H. Nininger; Denver, CO, early 1940s.
Our core mission is to build on this immense legacy by creating and sharing new knowledge in the field of meteoritics and allied disciplines. We are achieving this through (1) curation of one of the finest meteorite collections in the world, including growth of the collection through judicious acquisition of new specimens and distribution to scientists worldwide, (2) cutting-edge research on meteorites and planetary materials, for furthering our understanding of the origin of our Solar System and planets, and (3) broad dissemination of the latest scientific results, and the education of a wide cross section of society, including students, educators and the lay public.
Whether you are a meteorite enthusiast, or someone not as familiar with these objects, I hope that you will enjoy browsing our website for all the information that is available here. And, of course, if you happen to find yourself in the southwest, I invite you to pay a visit to the Meteorite Gallery on the second floor of ISTB4 on the ASU campus and hope that you will enjoy seeing some of our wonderful meteorites on display.
Director, Center for Meteorite Studies