The BEYOND Center is pleased to announce The 2017 Eugene Shoemaker Memorial Lecture!
Tuesday, October 17th, 2017, at 7:00pm
Marston Exploration Theater, ISTB4
ASU Tempe Campus
"Life and death by impact: Drilling for clues"
Presented by Sean Gulick
Click here to RSVP and for more information!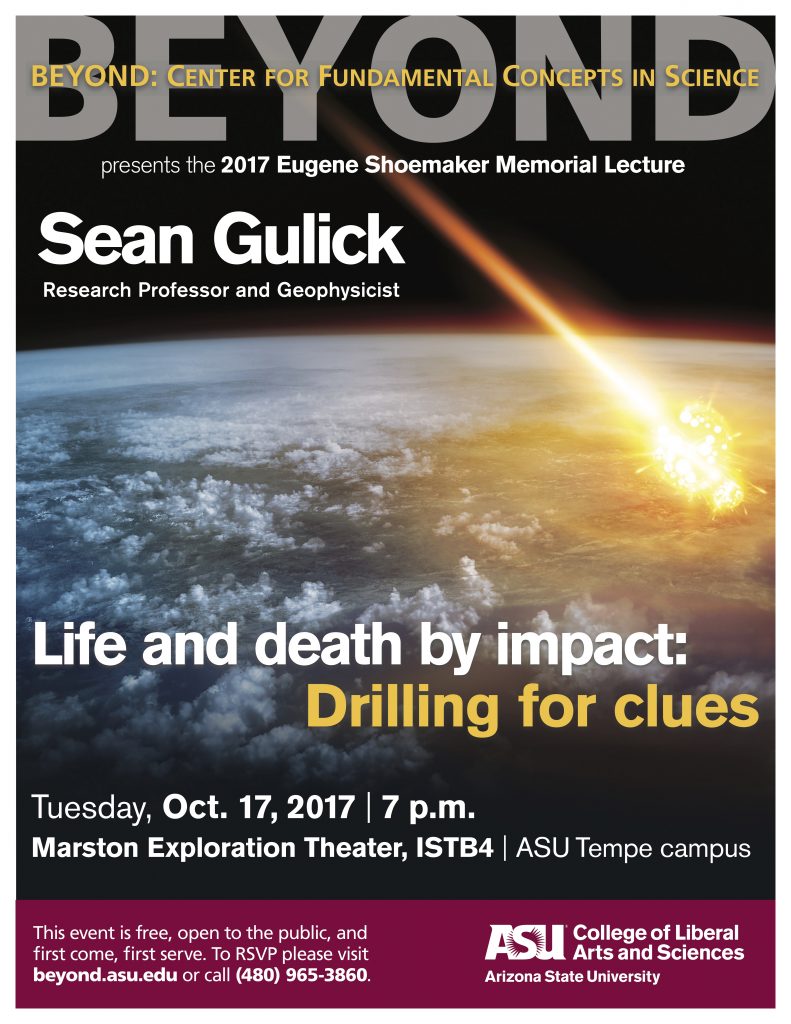 Abstract:
The most recent of Earth's five largest mass extinction events occurred 66 Ma, coeval with the impact of a ~12 km asteroid, striking at ~60 degrees into what is today the Yucatán Peninsula, México, producing the ~200 km-wide Chicxulub crater. This impact, by some estimations, drove the extinction of 75% of life on Earth at the genus level. The mass extinction event marks the boundary between the Cretaceous and Paleogene. In April and May 2016, the International Ocean Discovery Program, with co-funding from the International Continental Scientific Drilling Program, successfully retireved cores from the Chicxulub impact crater, Mexico. These cores include the first-ever samples of the transition from an intact peak ring through post-impact sediments. A peak ring is a discontinuous ring of mountains observed within the central basin of all large impact craters on rocky planets. Newly drilled cores include the uplifted target rocks, melt-rich rocks created by the impact, hydrothermal deposits, and the return to normal sedimentation. The discovery that Chicxulub's peak ring consists of largely granite uplifted by ~10 km calibrates impact models and allows for observation of impact processes. At the top of the peak ring, the K-Pg boundary deposit includes a sequence ~130 m thick deposited by impact processes that range from minutes to likely years after the asteroid hit. This sequence is then overprinted by hydrothermal processes that lasted at least 100s Kyr and may have fed a subsurface ecosystem within the crater. The full recovery of life within the crater spans from immediately after impact through millions years allowing for a first-order assessment of the environmental consequences of the impact ("kill mechanisms").

Biography:
Prof. Sean Gulick is an internationally recognized expert in understanding the interactions between tectonics and climate, the geohazards associated with active tectonic settings, and evidence for catastrophic events in the geological record including the geologic processes and environmental effects of the Cretaceous-Paleogene Chicxulub meteor impact. His was selected to be Co-Chief for two International Ocean Drilling Program (IODP) expeditions, received the Jackson School Outstanding Research Award, holds a Distinguished Lecturer award for the Consortium for Ocean Leadership, and has given invited lectures to both academic and industrial audiences. He Co-Chairs the IODP Science Evaluation Panel in recognition of his expertise. He has conducted 28 sea-going research projects leading or co-leading most of them, including expeditions to Chicxulub impact crater, the Gulf of Alaska, Sumatra, and the Nankai Trough. He has published more than 80 peer-reviewed journal articles. A full CV and publication list can be found here.