The ASU Center for Meteorite Studies is pleased to announce that Roger Fu, a graduate student at the Massachusetts Institute of Technology, is the recipient of the 2014 Nininger Meteorite Award, and Adam Sarafian, a graduate student at the Woods Hole Oceanographic Institution received an Honorable Mention for the award.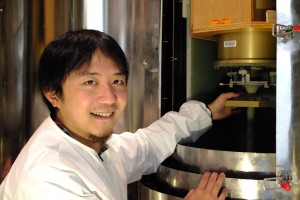 Roger's paper "Nebular magnetic fields recorded by the Semarkona meteorite", describes how a recently developed paleomagnetic technique known as SQUID Microscopy was used to measure the magnetic remanence (the magnetization remaining after removal of an external magnetic field) of eight dusty olivine-bearing chondrules from the Semarkona LL3.0 chondrite. Because these dusty olivine crystals contain sub-micron sized Fe metal particles and cooled in the solar nebula, their remanent magnetization can be used to infer the intensity of nebular magnetic fields.
Theoretical studies of protoplanetary disk environments suggest that magnetic fields exerted a strong control on the nebular accretion rate, lifetime, and dynamical state. Furthermore, some proposed theories of chondrule formation and planetesimal accretion invoke the participation of nebular magnetic fields.
The recovered paleofield intensity, 54+/-21 µT, suggests that magnetic mechanisms of mass and angular momentum redistribution played an important role in driving the net inward accretion of the solar nebula. Furthermore, these magnetic field strengths are most consistent with chondrule formation theories such as planetesimal impacts and nebular shocks that predict little to no amplification of background nebular fields. Future paleomagnetic studies using similar techniques on other groups of meteorites promise to provide a more complete picture of how magnetic fields varied with time and space in the solar nebula.
Roger's research was performed under the advisement of Dr. Ben Weiss.
You can read the entire paper, published in the journal Science, here!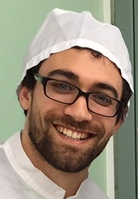 Adam's paper, entitled "Early accretion of water in the inner solar system from a carbonaceous-like source" attempts to answer fundamental questions such as: When could water and other volatile elements incorporate into planets? Where did these elements come from, comets or asteroid-like bodies?
Through measurement of the hydrogen isotope composition of the mineral apatite in ancient eucrite meteorites, he and his co-authors provide the earliest evidence that hydrogen, the key component in water, accreted to an early-forming body in the inner Solar System.
Based on this hydrogen isotopic data, the paper provides evidence that the water accreting in the very early inner Solar System had the same source-signature as carbonaceous chondrite meteorites and modern-day Earth, and concludes that carbonaceous chondrites were likely the dominant source of water for the inner Solar System during the accretion of terrestrial planets.
Adam's research was performed under the advisement of Dr. Sune Nielsen.
You can read the entire paper, published in the journal Science, here!