Impact Craters Teacher Page
Hawai'i Institute of Geophysics and Planetology
Informational website giving an overview on impact craters, their formation, morphology and subsequent modification.
http://www.spacegrant.hawaii.edu/class_acts/CratersTe.html
---
Space Rocks Presentation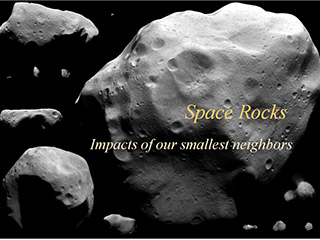 Space Rocks: Impacts of our smallest neighbors
Night Sky Network
https://nightsky.jpl.nasa.gov/download-view.cfm?Doc_ID=464
---
Space Rocks Tell Their Secrets
NASA Johnson Space Center
This slide show describes how NASA scientists collect, preserved and study meteorites.
http://ares.jsc.nasa.gov/education/SpaceRocksPresentation.pdf
---
PBS Meteorites & Life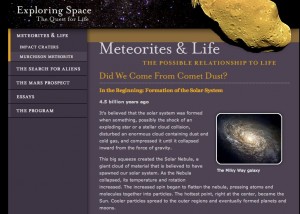 Comets and meteors have been raining debris on Earth for billions of years, and scientists think they just may be the vehicles that carried the "stuff of life" to the planet. Explore the timeline of the Murchison meteorite and the significant discoveries that may begin to answer the question of how life came to be here.
http://www.pbs.org/exploringspace/meteorites/murchison/index.html
---
Utah Geological Survey
Information on meteorites and meteorwrongs from the Utah Geological Survey.
http://geology.utah.gov/surveynotes/gladasked/gladmeteorite_id.htm
---
NASA Astronomy Picture of the Day
Discover the cosmos! Each day a different image or photograph of our fascinating universe is featured, along with a brief explanation written by a professional astronomer.
http://apod.nasa.gov/apod/astropix.html
---
NASA Image Archive
http://www.nasa.gov/multimedia/imagegallery/
---
Impact Cratering

Lunar and Planetary Institute
One of the Activity at a Glance lessons that gives educators background information and ideas for fun classroom activities.
http://www.lpi.usra.edu/education/explore/shaping_the_planets/impact_cratering.shtml
---
Chicxulub Impact Event – Understanding the K-T Boundary
Lunar and Planetary Institute
Includes five dozen new illustrations that faculty and students can use for educational purposes.
http://www.lpi.usra.edu/science/kring/epo_web/impact_cratering/Chicxulub/