Once processed, we analyze the isotopic composition of meteorites using a Thermo Neptune multicollector plasma mass spe
ctrometer.
How It Works
This instrument does three things:
(1) Ionize the sample by stripping off electrons and directing the ions, using electrostatic lenses in a high vacuum, to an electromagnet (or other type of mass analyzer).
(2) Separate the ions by atomic weight.
(3) Direct ions to one or a series of detectors. Resulting signals are fed into a computer that calculates isotope ratios and analytical uncertainties.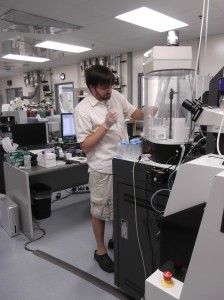 Our mass spectrometer facility has the ability to analyze both sample solutions and solid samples, the latter by way of a Photon Machines Analyte 193 laser ablation system.
The Neptune is equipped with nine faraday collectors, an axial secondary electron multiplier with RPQ energy filter, and three off-axis ion counters (MIC channeltrons) configured for low-level Pb isotope analysis.
For solutions, we mainly use an ESI Apex sample introduction system (with optional Spiro desolvation module) or Aridus II, but we sometimes also use a conventional glass spray chamber. We have an ESI SC-2 autosampler for automated analysis.