In addition to studying the Solar System's smaller bodies, Center personnel study Mars in a number of ways. Director Meenakshi Wadhwa and her research group are interested in deciphering the geologic history and evolution of Mars through trace element and isotopic studies of the Martian meteorites.
Wadhwa's work has particularly focused on determining redox conditions in the mantle and crust on Mars through studies of rare earth element abundances, as well as on understanding the early differentiation history of Mars through investigations of the 146Sm-142Nd and 182Hf-182W short-lived isotope systems in the Martian meteorites.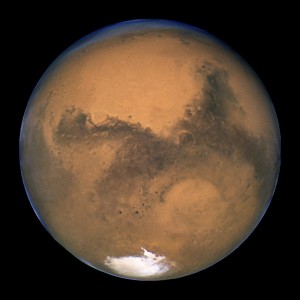 Ph.D. student Emilie Dunham is measuring the rare earth element (REE) abundance of Martian shergottite meteorites to determine their formational history and the composition of the parent magma.
Ph.D. candidate Prajkta Mane is studying the hydrogen isotope composition of Martian meteorites to acquire insight into Martian water reservoirs. These analyses are providing unique insights into the history of water on the surface of Mars and the alteration of the Martian crust.
Image credit: NASA, J. Bell and M. Wolff
.