Albareto is an ordinary (L/LL4) chondrite that fell in northern Italy in July of 1766.
The meteorite's fall was widely witnessed, as it occurred in the middle of the day, and accounts describe the stone impacting with such force that the ground shook and a cow was knocked off its feet. The 2 kg stone was recovered from a crater approximately a meter deep.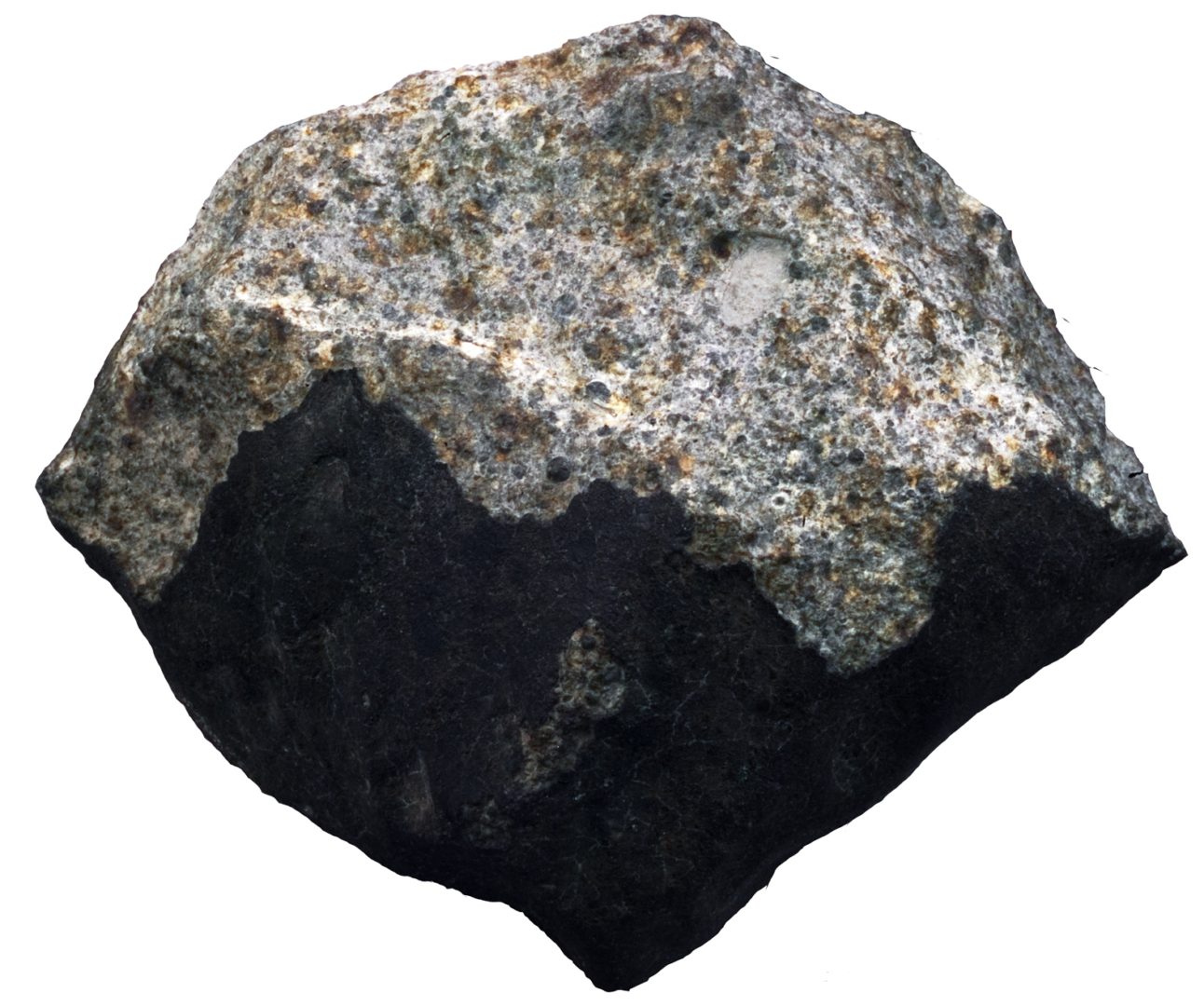 The fall of the Albareto meteorite was very well documented by the Abbé Domenico Troili in a short book published later that year: About the Fall of a Stone from the Air, Explanation, Dedicated to Their Most Serene Highnesses of Modena.
Photo: Mossimo Barbieri. Il frammento della Meteorite di Albareto caduta del luglio 1786 conservato presso il Museo del Dipartimento di Scienze della Terra di Modena Gemma 1786.
In their 2002 paper Domenico Troili (1766): "The true cause of the fall of a stone in Albareto is a subterranean explosion that hurled the stone skyward", Ursula Marvin and Mario Cosmo discuss the Albareto meteorite fall, as well as the place of Troili's publication in the history of meteoritics:
In mid-July, 1766, a stone fell at Villa Albareto near Modena in northern Italy. A sudden explosion like a cannon shot follwed by fierce whistling sounds frightened people over a wide area. Some saw a fiery body falling from the sky; others said it was dark and smoky. The ground shook when the stone plunged into the soil making a hole nearly a meter deep. The Abbé Domenico Troili collected eyewitness reports, examined the stone, and reported the presence of marchesita, and old name for pyrite. A century later, this mineral, which proved to be iron sulfide (FeS), was named "troilite" in his honor. Troili's description is unquestionaby that of a meteorite fall, and therefore some scientists have argued that it is Troili, rather than Ernst F. F. Chladni, to whom we should give credit as the first person to record the fall of a stone from space. However, Troili, himself, had no such idea; he wrote that a subterranean explosion had hurled the stone high into the sky from a vent in the Earth.
Read the full Meteoritical Bulletin entry for Albareto, here!