Videos
---
---
Websites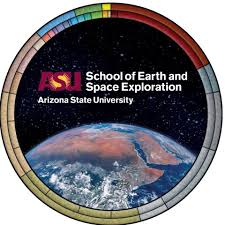 Learn about research in the ASU School of Earth and Space Exploration!
Includes Meteorites: Space Rocks, produced by Center-affiliated PhD Candidates Soumya Ray and Zachary Torrano.
---

Image: NASA
Offering videos, ebooks, podcasts, virtual tours, and much more.
---

Image: NASA/STEM
NASA's journeys have propelled technological breakthroughs, pushed the frontiers of scientific research, and expanded our understanding of the universe. These accomplishments, and those to come, share a common genesis: Education in science, technology, engineering, and math.
More information
NASA STEM Engagement seeks to:
Create unique opportunities for students and the public to contribute to NASA's work in exploration and discovery.
Build a diverse future STEM workforce by engaging students in authentic learning experiences with NASA people, content, and facilities.
Strengthen public understanding by enabling powerful connections to NASA's mission and work.
To achieve these goals, NASA STEM Engagement strives to increase K-12 involvement in NASA projects, enhance higher education, support underrepresented communities, strengthen online education, and boost NASA's contribution to informal education.
---

In collaboration with NASA, the National Informal STEM Education (NISE) Network have assembled a new set of engaging, hands-on Earth and space science experiences with connections to science, technology, and society, as well as tips for leading hands-on activities.
https://www.nisenet.org/earthspacekit
More information
NISE Network products are developed through an iterative collaborative process that includes scientific review, peer review, and visitor evaluation in accordance with an inclusive audiences approach. Products are designed to be easily edited and adapted for different audiences under a Creative Commons Attribution Non-Commercial Share Alike license. To learn more, visit the NISE
Development Process page
.
---
Informational website hosted by Hawai'i Institute of Geophysics and Planetology, giving an overview of impact craters, their formation, morphology and subsequent modification.
http://www.spacegrant.hawaii.edu/class_acts/CratersTe.html
---

The Lunar and Planetary Institute has posted online a large collection of classroom resources related to the K-T boundary, Chicxulub crater, and impact cratering processes.
https://www.lpi.usra.edu/science/kring/Chicxulub/students-teachers/
---
Information on meteorites and meteorwrongs from the Utah Geological Survey.
https://geology.utah.gov/map-pub/survey-notes/glad-you-asked/meteorite-or-meteorwrong/
---
Discover the cosmos! Each day, a different image or photograph of our fascinating universe is featured, along with a brief explanation written by a professional astronomer.
https://apod.nasa.gov/apod/astropix.html
---
https://www.nasa.gov/multimedia/imagegallery/index.html
---
http://verdevalleyarchaeology.org/spacerocks
---
---
Presentations
Space Rocks: Impacts of our smallest neighbors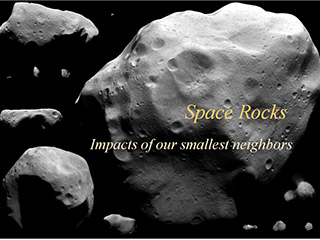 Use this Night Sky Network presentation in conjunction with the activities included in the Space Rocks ToolKit or on its own. Presentation about our smallest neighbors, the properties of comets and asteroids, how we are searching for them, the potential hazards of Near-Earth Objects (NEOs), and what we might do to avoid future impacts.
https://nightsky.jpl.nasa.gov/download-view.cfm?Doc_ID=464
---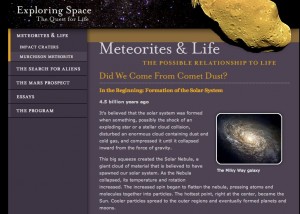 Comets and meteors have been raining debris on Earth for billions of years, and scientists think they just may be the vehicles that carried the "stuff of life" to the planet. Explore the timeline of the Murchison meteorite and the significant discoveries that may begin to answer the question of how life came to be here.
http://www.pbs.org/exploringspace/meteorites/murchison/index.html
---