Exploring Meteorite Mysteries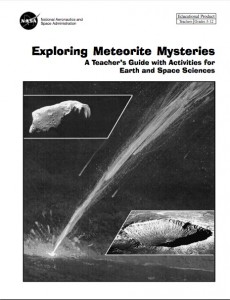 Grades: 5-12
The Teacher's Guide, Exploring Meteorite Mysteries, gives a broad introduction to many aspects of meteorite science. It tells the story of solar system history from the formation of the planets to catastrophic impacts on Earth. It helps the students learn how scientists use studies of these rocks from space to decipher that history. The Meteorite ABC's and Solar System ABC's Fact Sheets contain important information about meteorites and bodies in the solar system in convenient table format.
http://ares.jsc.nasa.gov/Education/Activities/ExpMetMys/ExpmetMys.htm
---
Cratering the Moon NASA Quest Challenge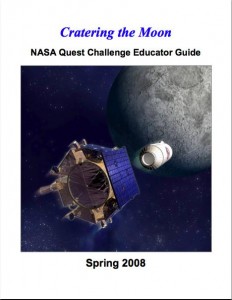 The Lunar CRater Observation and Sensing Satellite (LCROSS) will travel aboard the same launch vehicle as the LRO. In early 2009, LCROSS will aim the spent Centaur upper stage of the launch vehicle at the permanently dark floor of one of the Moon's polar craters to test the theory that ancient ice lies buried there. Students will design and build a launching device that will cause a projectile to excavate subsurface layers of lunar soil.
http://quest.nasa.gov/challenges/lcross/index.html
---
Moon Math: Craters!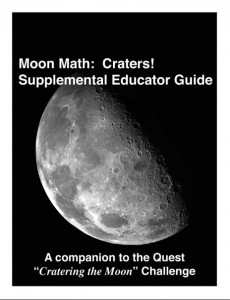 This supplemental guide suggests activities for connecting standards-based geometry concepts (area, volume, and proportion of two- and three-dimensional objects) to an actual NASA lunar mission.
http://esc.nasa.gov/documents/MoonMathChallengeGuide.pdf