Lost City is an (H5) ordinary chondrite that fell in Oklahoma, USA, January 3, 1970, at 8:14 PM.
The many witnesses described the associated fireball lighting up the town, and a Smithsonian Astrophysical Observatory Special Report (#336) compared its brightness to that of the full moon. The report goes on to say that:
Sonic booms were reported to have been heard over an area of about 1000 km2 between Tulsa and Tahlequah. well-confirmed reports of the audio event cover an area of at least 300 km2, including Tahlequah, Waggoner, Inola, and Mazie, Oklahoma. This was variously described as like thunder, a single boom, or a series of consecutive sharp cracks.
…
We were probably only a few hours too late in our recovery to meet the requirements of those biochemists with an interest in organic compounds in meteorites. Judging from the footprints around the meteorite and the stained snow immediately adjacent to it, we believe this object to have been seriously contaminated by a dog or some other canine.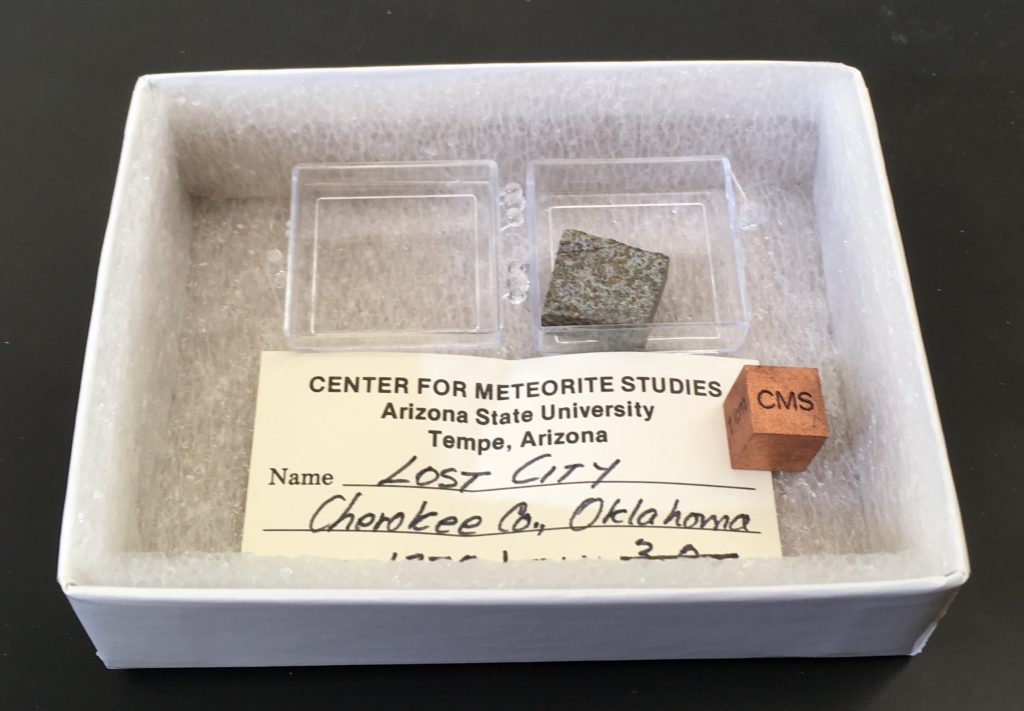 The Lost City fireball was extremely well-documented; it was photographed by 4 Prairie Meteorite Network cameras, and the meteorite was subsequently recovered by the Smithsonian Institution. The data collected through the camera network allowed researchers to calculate the orbit of the meteoroid, and Lost City provided a wealth of information on trajectory, photometry, and impact prediction. While the Smithsonian Institution operated 16 Prairie Meteorite Network camera stations in the mid-western US between 1964 and 1975; over this entire period, Lost City was the only meteorite recovered after its fall was captured by the camera network.
The Lost City meteorite's fall and recovery were also covered by The Daily Oklahoman – read the original article here!