Kera Tucker received her B.S. in Geology from Oregon State University in 2011. As an undergraduate student, Kera worked with Dr. Anita Grunder on the geochemical classification of pumices found in Oregon's Hampton Tuff ignimbrite. The results of this research were presented at the 2011 Geological Society of America's Rocky Mountain and Cordilleran Joint Meeting in Logan, Utah.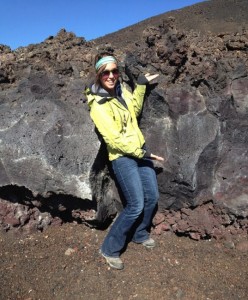 After completing her undergraduate degree, Kera became a Program Specialist with the NASA Astrobiology Institute, and was involved in various education and public outreach efforts including FameLab and NASA Ames team public outreach, as well as social media, and Astrobiology Institute datasets.
Excited to combine her passions for geology and space science, Kera enrolled as a Master's student in the School of Earth and Space Exploration at ASU in 2013. Her Master's project was aimed at determining the hydrogen isotopic composition and water content of the interior of Mars by analyzing Nominally Anhydrous Phases (NAPs) in eight martian meteorites. She performed this work under the supervision of Prof. Meenakshi Wadhwa (Director, Center for Meteorite Studies), and in collaboration with Profs. Richard Hervig and Christy Till.
Using the Secondary Ion Mass Spectrometer (SIMS) at Arizona State University, Kera conducted 113 individual analyses of water content and hydrogen isotopic composition of NAPs in the shergottites Zagami, Los Angeles, QUE 94201, SaU 005 and Tissint and in the nakhlites Nakhla, Lafayette, and Yamato 000593. Based on these analyses, Kera was able to infer that the mantle source reservoirs of the martian meteorites were similar to the Earth's mantle in terms
of hydrogen isotopic composition and water content.
A portion of Kera's thesis study was recently presented at the 46th Lunar and Planetary Science Conference, in Houston, TX (read Kera's conference abstract here). Having successfully defended her Master's thesis in April of 2015, Kera will graduate in May.
Kera aspires to a career in field geology, allowing her to pursue her passions for Earth Science and the outdoors, as well as providing the opportunity to inspire and educate future generations.