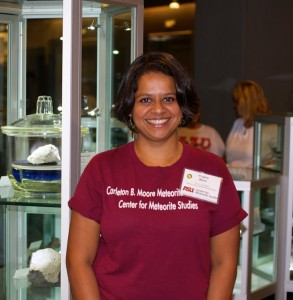 Prajkta Mane received her B.Sc. in Geology from the University of Mumbai (St. Xavier's College) in 2008, followed by her M.Sc. in Applied Geology from the Indian Institute of Technology (Bombay) in 2010.
After receiving her M.Sc., Prajkta worked as a Project Associate at PLANEX Physical Research Laboratory in Ahmedabad India, a unit of the Government of India's Department of Space. Her work involved analyzing the isotopic composition of calcium- and aluminum-rich inclusions (CAIs) in meteorites via Multi Collector Inductively Coupled Plasma Mass Spectrometry (MC-ICP-MS).
Prajkta's research in the Center for Meteorite Studies focuses on determining the chemical and isotopic compositions of meteorites in order to shed light on processes in the early Solar System. She analyzes CAIs to decipher the chronology of early Solar System events and the specific processes involved; CAIs were the first solids to condense from the Solar nebula, and they preserve petrographic and geochemical records of the earliest events to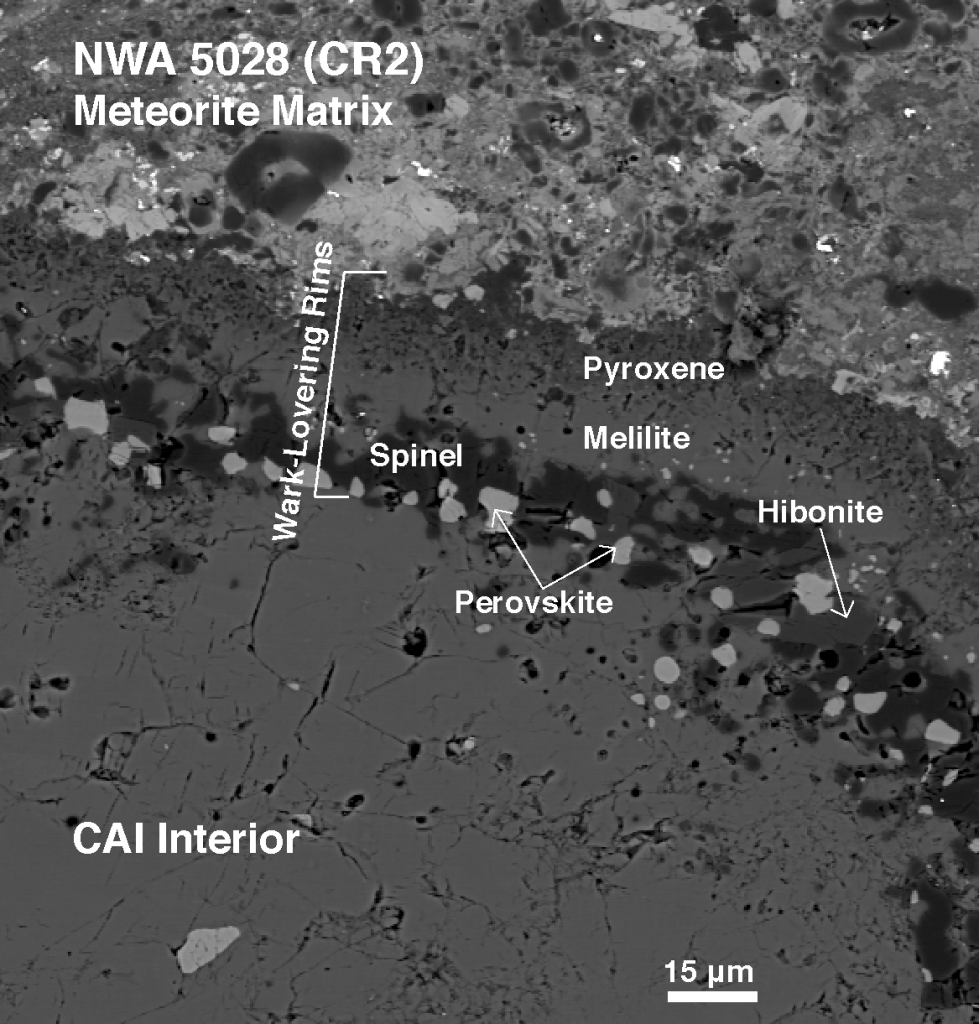 shape our Solar System.
The inclusions Prajkta studies are encapsulated by distinct edges, composed of only one or two minerals, called Wark-Lovering rims. Due to the extremely small scale of these rims, it is challenging to analyze their chemical and isotopic composition with traditional mass spectrometry techniques. Using the Cameca NanoSIMS 50L at ASU, Prajkta has been able to chemically image Wark-Lovering rims on a nanometer scale via secondary ion mass spectrometry, and has successfully age-dated them using their aluminum and magnesium isotopic content. The results of her analyses have provided insight into the chronology of events in the early Solar System and the accretion of planetary bodies, and Prajkta plans to continue her study of primitive meteorites to further constrain the formation time of these rims.
In addition to her work on Wark-Lovering rims, Prajkta has measured zirconium isotopes in CAIs, and has investigated the evolution of water reservoirs on Mars using the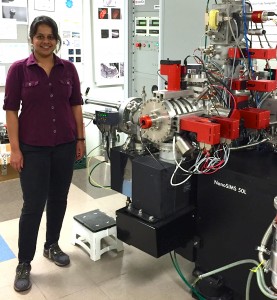 hydrogen isotope composition of the newest martian meteorite fall, Tissint.
Prajkta is a recipient of NASA's Earth and Space Science Fellowship, and was granted the 2014 Graduate Excellence Award by ASU's College of Liberal Arts and Sciences.
An active participant in outreach activities, Prajkta frequently represents the Center for Meteorite Studies and School of Earth and Space Exploration at events such as ASU Homecoming, Earth & Space Open House, Night of the Open Door, and Phoenix Comicon.
Having successfully defended her dissertation in September, Prajkta plans to pursue a career in meteoritics and planetary science. She has a strong interest in pioneering analytical methods to significantly advance our knowledge of the building blocks of the Solar System, in particular the development of laboratory techniques to further study the isotope geochemistry of meteorites and samples returned from planetary missions.