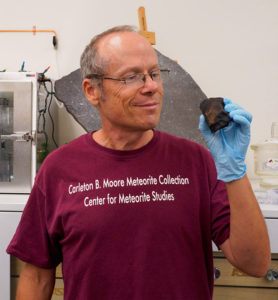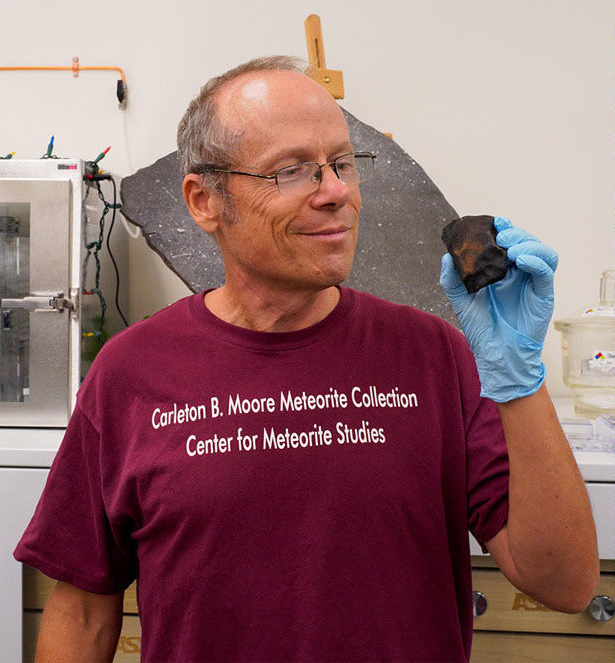 Center for Meteorite Studies Meteorite Curator Laurence Garvie is featured in a new article published in the journal Science on the meteorite Aguas Zarcas.
Aguas Zarcas is a carbonaceous (CM2) meteorite that fell in Costa Rica April 23, 2019. One 280 g (approx 10 oz) piece struck a dog house, and another 1152 g (approx 2.5 lb) piece left a hole the size of a grapefruit in the roof of a nearby house.
From the Meteoritical Bulletin (MB108):
At 21:07 local time on 23 April 2019, a meteorite fall was reported in Aguas Zarcas, San Carlos county, Alajuela province, Costa Rica. The fireball traveled WNW to ESE and was caught on cameras of the National Seismological Network (RSN) at the summit of Poás and Turrialba volcanoes, and from the Volcanological and Seismological Observatory of Costa Rica (OVSICORI). Sightings were reported from Quepos (Central Pacific) in the south and north to La Palmera in San Carlos.
Click here to see additional photos and learn more about this fascinating new meteorite, including its fall and recovery in Costa Rica, and its classification at ASU!