Catch up with Center alumni through this periodic feature!
Dr. Emilie Dunham received her doctoral degree in 2020, from the ASU School of Earth and Space Exploration. Her research in the Center for Meteorite Studies focused on constraining the astrophysical birth environment of the Solar System, for which she was granted a NASA Earth and Space Science fellowship. While at ASU, Dunham measured the first-formed Solar System solids (CAIs; calcium-aluminum-rich inclusions), to obtain evidence of the existence ~4.5 billion years ago of short-lived radionuclide 10Be. This data led to the finding that 10Be was predominantly inherited by the Solar System from our parent molecular cloud, suggesting that the Sun formed in a region with many other stars.
After finishing her doctoral research, Emilie was part of the 2019-2020 Antarctic Search for Meteorites (ANSMET) season. The team found 347 new meteorites, some of which Dunham hopes to study in the future!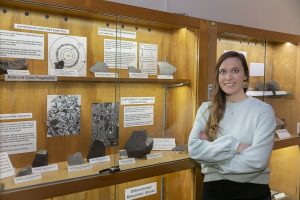 In 2020, Emilie was awarded the prestigious 51 Pegasi b postdoctoral fellowship to better understand why different chondrite meteorites contain such different populations of CAIs, in order to test the predication that Jupiter formed early and separated the inner Solar System from the outer Solar System. Photo credit: Heising-Simons Foundation.
During her postdoctoral fellowship work at the University of California, Los Angeles (UCLA), Emilie worked with a team of UCLA undergraduates and high school students through the Science Research Mentoring Program (associated with 51 Pegasi b fellowship). Together, Dunham and her team nearly doubled the number of inner Solar System CAIs found by searching ordinary and enstatite chondrites, and Emilie confirmed that CAIs formed within inner and outer Solar System bodies are, indeed, distinct. This crucial information will help to constrain why and when particles moved throughout the solar disk.
Emilie is now at University of California, Santa Cruz to continue her 51 Pegasi b fellowship research on CAIs.
Emilie likes to think of herself as a Solar System detective, forming questions and finding clues in order to solve the mysteries of Solar System formation and evolution. To help bring other detectives to the scene, Dunham is involved in Diversity, Equity and Inclusion (DEI) and outreach activities through inclusive mentoring practices, discussions to improving geoscience departments through the URGE program, facilitation of conversations using IDEA planetary science conference materials, presentations at the UCLA meteorite gallery, UCLA planetarium, and Skype a Scientist. She believes in enhancing everyone's experience with and access to scientific research and scientists.