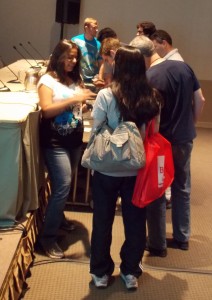 CMS Ph.D. Candidate Curtis Williams and Ph.D. Student Prajkta Mane represented the Center for Meteorite Studies at Phoenix Comicon this May, hosting a panel on meteorites with School of Earth & Space Exploration Associate Professor Steve Desch.
Williams and Mane displayed touchable meteorites from the Center's Carleton B. Moore Meteorite Collection, answered questions, and discussed meteorites with Comicon attendees.
Billed as the signature pop culture experience of the southwest, Phoenix Comicon lasts four days, and attracts tens of thousands of visitors.