Congratulations to Center undergraduate student worker Elizabeth (Libby) Dybal, who has been awarded a NASA Undergraduate Space Grant Fellowship!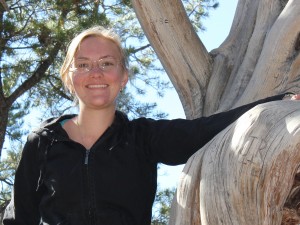 Utilizing the Center for Meteorite Studies ultra-clean Isotope Cosmochemistry and Geochronology Laboratory, Libby will be analyzing the stable Fe isotope composition of achondrite meteorites, under the mentorship of Center Director Meenakshi Wadhwa.
Working alongside upper-level graduate students, diverse faculty members, as well as scientists and engineers, undergraduate Space Grant Fellows gain valuable experience participating in research projects and educational outreach activities.
In addition to a scholarship project, Space Grant undergraduate awardees participate in Informal Education, as well as the annual ASU/NASA Space Grant poster session. They also present the results of their research at the Arizona Space Grant Consortium Undergraduate Research Symposium.
Space Grant fellowships are awarded to exceptional ASU students in a variety of disciplines in science, engineering, technology, and math (STEM), as well as fields in global change, media relations and education.