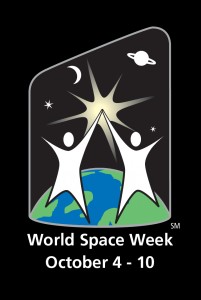 Celebrate World Space Week with a visit to the Meteorite Gallery at the Center for Meteorite Studies!
Find out where meteorites come from and how planets form!

Discover what scientists are learning from meteorites – right here at ASU!

Touch real meteorites!
World Space Week is an international celebration of science and technology, and their contribution to the betterment of the human condition. In 1999, the United Nations General Assembly declared that World Space Week will be held each year from October 4-10. These dates mark two important events:
October 4, 1957: Launch of the first human-made Earth satellite, Sputnik 1, opening the way for space exploration.

October 10, 1967: Signing of the Treaty on Principles Governing the Activites of States in the Exploration and Peaceful Uses of Outer Space, including the Moon and Other Celestial Bodies.
For more information on World Space Week, click here!
Join the Center for Earth & Space Exploration Day: Saturday, October 25th!