A spacecraft the size of a shoebox with Arizona origins will soon be orbiting our nearest neighbor to create a map of water-ice on the Moon.
The NASA-selected CubeSat will be designed, built, and operated at Arizona State University, and is one piece of the agency's larger mission to fully characterize the water content at the lunar South Pole in preparation for exploration, resource utilization, and improved understanding of the Moon's geologic history.
The spacecraft, called the Lunar Polar Hydrogen Mapper, or "LunaH-Map" for short, will produce the most detailed map to-date of the Moon's water deposits, unveiling new details about the depth and distribution of the ice that has been tentatively identified from previous missions. Confirming and mapping those deposits in detail will help NASA understand how much water might be available and will help inform NASA's strategy for sending humans farther into the solar system.
The ability to search for useful assets, such as hydrogen, can potentially enable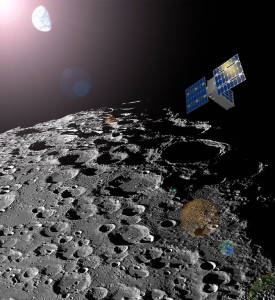 astronauts to manufacture fuel and other provisions needed to sustain a crew for a journey to Mars, reducing the amount of fuel and weight that NASA would need to transport from Earth.
This is the third major space project for which NASA has selected ASU in the past year, and it is the first planetary science spacecraft mission that will be led by ASU. It represents a major achievement for planetary geologist Craig Hardgrove, the School of Earth and Space Exploration postdoctoral research associate who proposed the mission and will be overseeing it as principal investigator.
An ASU-built CubeSat about the size of a shoebox will be used to produce a map of the water resources on the moon for future space exploration. It is the first ASU-led interplanetary mission. Photo by: Sean Amidan/ASU/SpaceTREx
Nikki Cassis
School of Earth & Space Exploration