This August, Center scientists presented new findings at the annual meeting of the Meteoritical Society in Los Angeles, on the University of California, Los Angeles campus.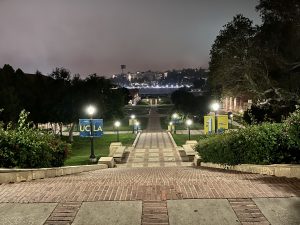 Established in 1933, The Meteoritical Society is an international organization dedicated to the promotion of research and education in planetary science with emphasis on the studies of meteorites and other extraterrestrial materials that further our understanding of the origin of the Solar System.
Click the titles below to learn more about our most recent research!
D.D. Burnett, A.J.G. Jurewicz, A. M. Amarsi and N. Grevesse
86th Annual Meeting of the Meteoritical Society (2023) #6082
R. M. L. Alosius, H. Busemann, D. Krietsch, J. Davidson, C. Maden
86th Annual Meeting of the Meteoritical Society (2023) #6247
M. Wadhwa, A. G. Distel, J. Davidson, S. R. Sutton and A. Lanzirotti
86th Annual Meeting of the Meteoritical Society (2023) #6051
J. Davidson and D. L. Schrader
86th Annual Meeting of the Meteoritical Society (2023) #6020
D. L. Schrader, J. Davidson, T. J. Zega, T. J. McCoy and K. J. Domanik
86th Annual Meeting of the Meteoritical Society (2023) #6052
T.J. McCoy, C.M. Corrigan, T.L. Dickison, G.K. Benedix, D.L. Schrader and J. Davidson
86th Annual Meeting of the Meteoritical Society (2023) #6231
M. S. Thompson, D. L. Schrader, J. Davidson, and T. J. Zega
86th Annual Meeting of the Meteoritical Society (2023) #6258
I. Kerraouch, A. Bischoff, M. E. Zolensky, E. Wölfer, M. Trieloff, R. D. Hanna6 A. Morlok, K. Amano, Y. Fukuda, T. Nakamura, J. Isa, T. Noguchi, T. Osawa and H. Hiesinger
86th Annual Meeting of the Meteoritical Society (2023) #6250