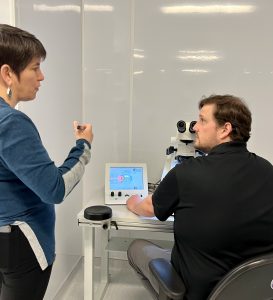 Delve into current research at the Buseck Center for Meteorite Studies with this periodic feature, and catch a glimpse of what our students and scientists are working on right now!
Center Director Rhonda Stroud's new state-of-the-art Leica microtome is capable of creating sections as thin as 30 nanometers, and is an invaluable tool for transmission electron microscopy (TEM) studies of meteorite, returned asteroid and comet dust particles.
The microtome will ultimately be operated in a Class 10,000 cleanroom (10,000 particles per cubic foot of air – normal air contains over 1 million particles/ft3) to better protect tiny but precious extraterrestrial samples.
See the microtome in action (before blade installation), below!