We are pleased to welcome Dr. Rhonda Stroud, who joins ASU this Fall as Director of the Buseck Center for Meteorite Studies and Professor in the School of Earth and Space Exploration.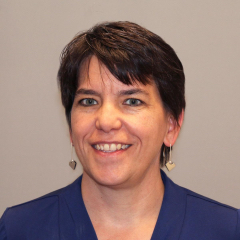 Stroud comes to us from the US Naval Research Lab in Washington DC. Her research portfolio blends materials physics, planetary science and electron microscopy to address the origin and properties of materials ranging from nanodiamond stardust to quasicrystals, to aerogel nanocomposites. 
She is currently participating in the JAXA Hayabusa2 Initial Analysis of returned samples from asteroid Ryugu, and the NASA Apollo Next Generation Sample Analysis examination of lunar soils.  Past mission experience includes the Stardust Mission Participating Scientist, and Interstellar Preliminary Examination Foils Team lead. 
In addition to Fellowship in the Meteoritical Society, Microscopy Society of America, Microanalysis Society and American Physical Society, Stroud served as President of the Microanalysis Society from 2018 to 2020, and on the Small Bodies sub-panel of  the 2023-2032 NAS Planetary Science Decadal Survey.