The Center for Meteorite Studies welcomes Dr. Kate Souders, who began her appointment as Research Assistant Professor (Laboratory Manager) on July 1, 2014.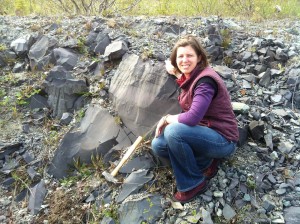 D
r. Souders received a B.S. in Geology (2000) from Clemson University, followed by M.S. in Geology (2004) from the University of Wyoming and a Ph.D. in Geochemistry (2011) from Memorial University of Newfoundland (MUN). Subsequently, she was funded by the Natural Sciences and Engineering Research Council (NSERC) of Canada through the Collaborative Research and Training (CREATE) program for a postdoctoral position at MUN prior to joining CMS.
She is replacing Dr. Steve Romaniello as the Laboratory Manager for the Isotope Cosmochemistry and Geochronology Laboratory. Dr. Romaniello has served in this capacity since September, 2012.
Although we will miss Steve, we are fortunate that he will remain in close proximity, since he will is staying on at ASU as Research Coordinator working with Prof. Ariel Anbar's research group. We wish Steve the best of luck in his new endeavors, and welcome Kate!