While the annual Perseid meteor shower is at its peak August 11-13, you can take in the show a little early this year! At the shower's height, you can expect as many as 60 meteors per hour in the pre-dawn hours (fewer in urban areas), but NASA's All Sky Fireball Network of cameras has already recorded Perseid meteors this week!
Since the largest full moon of the year will light up the night sky August 10th, start your skywatching early to get the full effect of the Perseids!
The yearly Perseid meteor shower is the result of Earth's orbit intersecting the debris tail of Comet Swift-Tuttle. The meteors are the result of small debris particles burning up as they enter Earth's atmosphere, and do not produce meteorites. For more information on meteors vs meteorites, click here!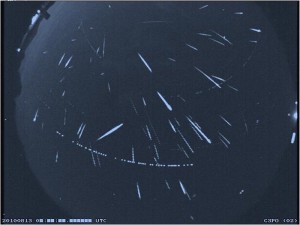 For further information on the Perseids, including viewing tips, details on Comet Swift-Tuttle, and live streaming of the meteor shower, click on the links below! Happy stargazing!