The Perseid meteor shower is at its peak August 12 & 13, so make sure to take in the show! At the shower's height, you can expect as many as 100 meteors per hour in the pre-dawn hours (fewer in urban areas).
The yearly Perseid meteor shower is the result of Earth's orbit intersecting the debris tail of Comet Swift-Tuttle. The meteors are the result of small debris particles burning up as they enter Earth's atmosphere, and do not produce meteorites. For more information on meteors vs meteorites, click here!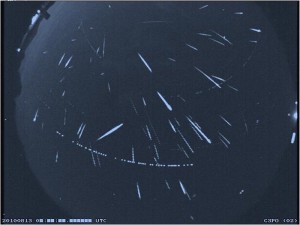 For further information on the Perseids, including viewing tips, details on Comet Swift-Tuttle, and live streaming of the meteor shower, click on the links below! Happy stargazing!