We are pleased to welcome Dr. Alice Stephant, a Postdoctoral Scholar in the Center for Meteorite Studies!
Alice received her Ph. D. in 2014 from the Muséum National d'Histoire Naturelle in Paris, and her research i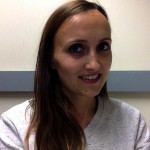 nterests are in understanding the origin of water on planetary bodies in our Solar System through analyses of the hydrogen isotope ratios and water contents of meteorites and lunar samples.
For her postdoctoral research, she will be working with Dr. Meenakshi Wadhwa (Director, CMS) and other researchers in the School of Earth and Space Exploration (Dr. Rick Hervig and Dr. Maitrayee Bose) on studying the hydrogen isotope compositions of nominally anhydrous minerals in chondritic and achondrite meteorites via secondary ion mass spectrometry (SIMS).