BCMS undergraduate researcher, Xeynab Mouti Al-Hashimi, recently visited London's Natural History Museum (NHM) where the UK's latest meteorite fall, Winchcombe, is currently on display.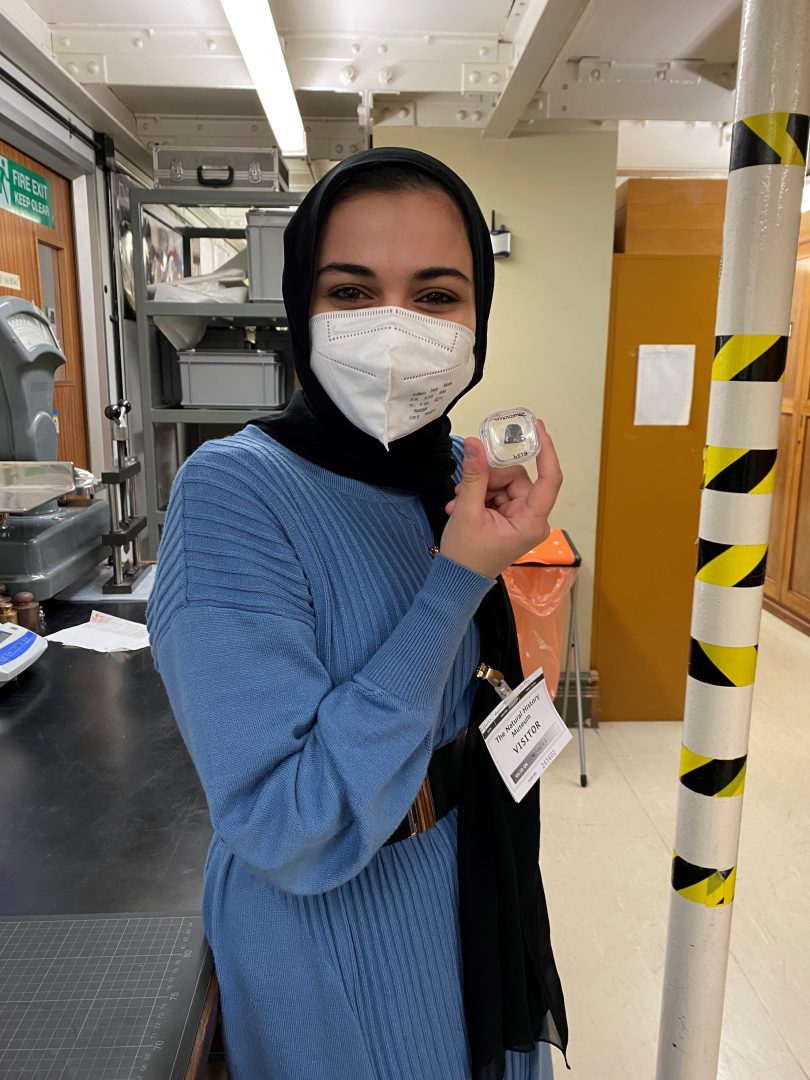 The Winchcombe meteorite, a carbonaceous chondrite, fell in Gloucestershire, England on February 28th, 2021. Fragments were quickly recovered in the village of Winchcombe, some of which were found within twelve hours of fall and are now on display at the NHM.
Fortuitously, the Winchcombe meteorite is a Mighei-like carbonaceous (CM) chondrite – the exact type of meteorite that Mouti Al-Hashimi has spent the last three years studying in BCMS.
"With the Winchcombe meteorite being classified as a CM, it is a very exciting time to study this type of meteorite and I can't wait to see all the upcoming research and hopefully do some of my own on it as well!" says Mouti Al-Hashimi. "CM chondrites are also a potential match for samples that will be returned from asteroid Bennu by NASA's OSIRIS-REx mission so it's a perfect time to study them!"
Mouti Al-Hashimi, who is currently studying a semester abroad, took the opportunity to visit the Winchcombe chondrite and was given a tour of the NHM's collection by Dr. Ashley King – a research fellow at the NHM and long-time collaborator of BCMS scientists, Dr. Jemma Davidson and Dr. Devin Schrader.
"Dr. King gave me a complete tour of their collection as well as a rundown on the interesting science everyone is doing at the moment," says Mouti Al-Hashimi. "The meteorite curator, Dr. Natasha Almeida, explained their entire collection and how samples have been characterized and catalogued. I got to see all their analytical equipment, which was really cool and it was so interesting to talk to everyone!"
Dr. Jemma Davidson
Assistant Research Scientist
Center for Meteorite Studies
School of Earth and Space Exploration
Arizona State University