We are pleased to announce that Dr. Vinai Rai has joined the Center for Meteorite Studies!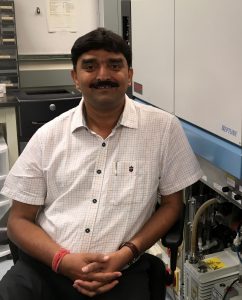 Dr. Rai has extensive experience with a variety of mass spectrometry techniques for addressing cosmochemical and geochemical questions. He has previously worked on such diverse topics as the nitrogen and noble gas systematics in ureilites, mass independent sulfur isotope compositions of meteorites and Antarctic ice cores, Sr-Nd isotopes in oceanic sediments, Mo isotopes in riverine systems, and Si isotopes in achondritic meteorites and water samples.
He comes to us from the Physical Research Laboratory in Ahmedabad, India, where he has been directing the multicollector ICPMS laboratory for the last ~8 years.
The majority of his research centers around the ultra-clean Isotope Cosmochemistry and Geochronology Laboratory, and Thermo Neptune muliti-collector mass spectrometer, the management of which he will be overseeing.