This story originally appeared in ASU News.
A new mineral has been named for Arizona State University Emeritus Regents Professor Carleton Moore, the founding director of ASU's Center for Meteorite Studies. The mineral, named "carletonmooreite," was found in a large, rare type of meteorite that fell in February 1948 in Norton County, Kansas.
School of Earth and Space Exploration Research Professor Laurence Garvie was recently analyzing a sample of the Norton County meteorite and found a mineral that had not been seen before. From there, he set about getting the new mineral approved by the International Mineralogical Association (IMA) and named for Moore.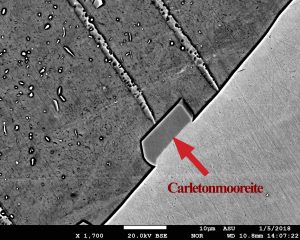 Garvie is the lead author of a recent study on carletonmooreite to be published in American Mineralogist with ASU co-authors Soumya Ray, who is a graduate student; research scientist Axel Wittmann; and Professor Meenakshi Wadhwa, along with Chi Ma of the California Institute of Technology and Kenneth Domanik of the University of Arizona.
"It is a rare type of meteorite made up primarily of a white mineral called enstatite but with an interesting batch of very much smaller dark minerals in it," explains Moore. "I appreciate it being named after me, and all the credit goes to Laurence Garvie for making this happen. I get my full name on it because there are other Moores out there."
"We discovered this mineral purely by serendipity," said Garvie. "We were studying elemental maps of a metal nodule from the Norton County aubrite and noticed small grains dominated by nickel and silicon. Importantly, the grains lacked phosphorus and there are no described minerals with just nickel and silicon, so we knew we had something new."
To have a new mineral species approved, Garvie and the co-authors first compiled a report of the mineral's composition, structure and other particulars. He then sent the report to the IMA for review. From there, an international committee reviewed the proposal and ultimately decided the data warranted a new mineral species.
In this case, carletonmooreite was approved as the 68th new mineral submission in 2018 by the IMA, and Garvie suggested that it be named after the founding director of ASU's Center for Meteorite Studies.
"Every new mineral, however tiny and rare, helps to uncover the rich tapestry of nature," said Garvie. "Each mineral is a snapshot of the very specific conditions under which it formed, and when nature presents us with a new mineral, it is our job is to be smart enough to figure out what it's telling us."
Moore is an emeritus Regents Professor at ASU's School of Earth and Space Exploration and School of Molecular Sciences. He earned his PhD at the California Institute of Technology in 1960 and was editor of the journal Meteoritics for 20 years. Notably, he was a member of the Lunar Sample Preliminary Examination Team for the Apollo program and a principal investigator for the returned lunar sample program for all the Apollo missions. Asteroid 5046 "carletonmoore" is also named after Moore.
Moore joins several other ASU faculty who have minerals named for them, including Don Burt (burtite), Peter Buseck (buseckite), and Alexandra Navrotsky (navrotskyite), as well as Hongwu Xu (xuite), who will join the School of Molecular Sciences in 2022.
This story was written with contributions from Jenny Green of the School of Molecular Sciences.
Media Relations & Marketing manager
School of Earth and Space Exploration