Arizona State University School of Earth and Space Exploration and Center for Meteorite Studies graduate student Emilie Dunham will be receiving her PhD in geological sciences this May.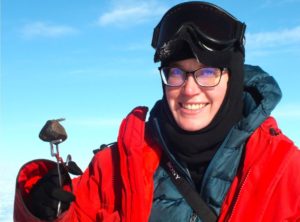 Among her many achievements, Dunham was recently selected for a 51 Pegasi b Fellowship in Planetary Astronomy, which provides exceptional postdoctoral scientists with the opportunity to conduct theoretical, observational, and experimental research in planetary astronomy. Dunham will be hosted by the University of California, Los Angeles, Department of Earth, Planetary, and Space Sciences and will be studying the heritage of meteorites to develop a timeline for planet formation and other early solar system events.
Question: What was your "aha" moment, when you realized you wanted to study the field you majored in?
Answer: I realized that I wanted to study meteorites during a class called "Planetary Materials" during my junior year of college at Case Western Reserve University. In this class, we learned about, touched and studied a huge range of meteorite samples — I couldn't get enough and pursued this field in graduate school. I felt and still feel that meteoritics falls at the perfect intersection of my astronomy, planetary science and geology passions.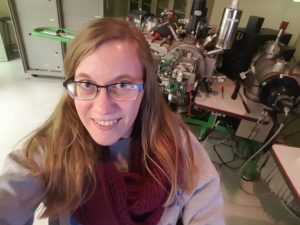 Photo credit: Emilie Dunham/ASU[/caption]Q: What's something you learned while at ASU — in the classroom or otherwise — that surprised you or changed your perspective?
A: Other than learning how to survive in 120 degree Arizona dry heat, I am continuing to learn about the importance of science communication and how it can positively affect those you engage with.
Q: Why did you choose ASU?
A: I was very excited to attend and be a part of the Center for Meteorite Studies in the School of Earth and Space Exploration because of the opportunity to work with my adviser, Professor Mini Wadhwa, the expansive meteorite collection and incredible community.
Q: What's the best piece of advice you'd give to those still in school?
A: My advice is to find and practice other passions in life that exist outside of school and research. For me, running has always been a necessary outlet and helps me approach a work-life balance.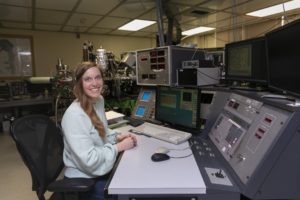 Photo courtesy Heising-Simons Foundation[/caption]Q: What was your favorite spot on campus, whether for studying, meeting friends or just thinking about life?
A: The Center for Meteorite Studies suite and meteorite vault in ISTB4. Being surrounded by meteorites and a great research community inspires me to ask big questions about how the Solar System formed.
Q: What are your plans after graduation?
A: I will be working at UCLA as a 51 Pegasi b postdoctoral fellow. I get to continue studying meteorites and discovering the secrets of solar system formation!
Karin Valentine
Media Relations & Marketing manager, School of Earth and Space Exploration