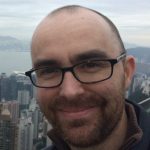 Center Interim Director Dr. Devin Schrader is featured in an ASU Now story recently published by Knowledge Enterprise writer Mikala Kass.
The story was published in celebration of Fossil Day and includes a great feature on the Center for Meteorite Studies and an explanation of fossil meteorites.
"[They give] a history of what's been hitting the Earth over a longer time scale than what we can record now as humans. The types of meteorites falling to Earth today are falling in different abundances than what we think was falling in the past," Schrader said.