We are pleased to announce that Prajkta Mane, a graduate student in the Center for Meteorite Studies at ASU, has successfully defended her Doctoral thesis, entitled "Isotopic Investigations of Meteoritic Materials: From Earliest-Formed Solids to Planetary Bodies".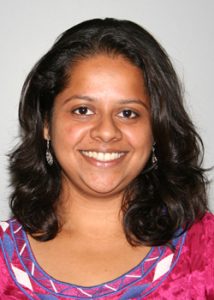 The beginning of our Solar System, including events such as the formation of the first solids as well as the accretion and differentiation of planetary bodies, is recorded in meteoritic material. This record can be deciphered using petrographic, geochemical and isotopic investigations of different classes of meteorites and their components. In her dissertation work, Prajkta investigated a variety of isotope systematics in chondritic and achondritic meteorites to understand processes that have shaped our Solar System and terrestrial planets, with a particular emphasis on Mars.
Prajkta's research focussed on two investigations involving isotopic analyses of Calcium-Aluminum-rich Inclusions (CAIs), which are the first-formed solids in the Solar System and record some of the earliest processes that occurred in the solar nebula. These earliest-formed solids are surrounded by concentric multi-mineralic rim sequences (each of which is typically only a few microns in thickness), known as the Wark-Lovering (WL) rims. These rims are present around most CAIs from different types of chondrites. As such, the WL rims record a universal event that marks the end of the growth period of CAIs. The results of this study suggest that these WL rims formed ~2-3 Ma after CAI formation, indicating that CAIs remained as free-floating objects in the solar nebula for at least this duration before being accreted onto their parent bodies. This additionally suggests that some mineral layers from the WL rims may have formed contemporaneously with chondrules, possibly by the similar transient heating mechanisms.
A portion of Prajkta's research was recently presented at the 47th Lunar and Planetary Science Conference, in Houston, Texas; you can read the conference abstract here!