Center affiliated undergraduate student and Space Grant intern Xeynab Mouti recently presented her latest findings at the 2020-21 ASU NASA Space Grant virtual poster session.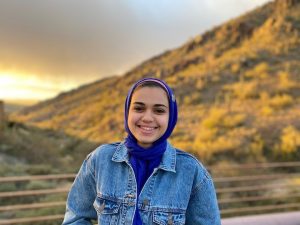 Mentored by Center for Meteorite Studies Assistant Research Scientist Jemma Davidson and Interim Director Devin Schrader, Mouti's research has focused on investigating fine-grained chondrule rims in the Mighei-like carbonaceous (CM) chondrites. This work aims to further elucidate the formational history of these rims, with the eventual goal of determining whether such rims are the result of parent body or solar nebula processes.
Space Grant internships are awarded to exceptional ASU students in a variety of disciplines in science, engineering, technology, and math (STEM), as well as fields in global change, media relations, and education.
Working alongside upper-level graduate students, diverse faculty members, scientists, and engineers, undergraduate Space Grant interns gain valuable experience participating in research projects and educational outreach activities.
Each intern is required to lead a project with a reportable outcome and present their findings at the annual ASU NASA Space Grant poster session. This poster session gives the community the opportunity to view and discuss research projects that current Space Grant interns are performing in a wide range of science and engineering disciplines.