Center Ph.D. candidate Emilie Dunham recently wrote an article for Meteorite Times Magazine. The piece, Understanding Solar System History: CAIs in Meteorites, details Dunham's research in the Center as well as findings she presented at the annual meeting of the Meteoritical Society last year.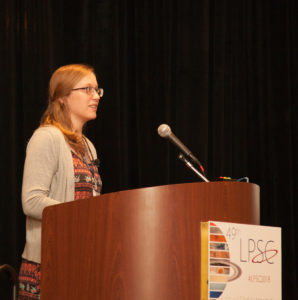 A recipient of the prestigious NASA Earth and Space Science Fellowship (NESSF), Emilie has also been awarded a Graduate Excellence Award by ASU's College of Liberal Arts and Science, the Nininger Student Travel Award, and the Brian Mason Award.
Read Emilie Dunham's article in Meteorite Times Magazine here!