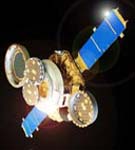 The October 2013 volume of Astronomy Magazine includes an article written by CMS Director Meenakshi Wadhwa! The article, "Order from Chaos: Genesis samples the solar wind" details the ongoing analysis of solar wind samples captured and returned to Earth by NASA's Genesis mission. You can read more about Genesis here, and learn about analysis of the solar wind being conducted in the Center for Meteorite Studies here!
Wadhwa also penned an article for the June 2013 volume of Astronomy Magazine. Featuring behind-the-scenes photos of research in NASA's Lunar Receiving Laboratory, at Johnson Space Center, the article titled "What are we learning from Moon rocks?" describes the history of the lunar sample return program, as well as the abundance of information that continues to be extracted from these fascinating rocks.
Did you know that the Center for Meteorite Studies has been involved in analyzing Apollo samples since 1969? Learn about CMS Founding Director Carleton Moore's work on the lunar sample return missions here!