Where do meteorites come from?
Most meteorites are believed to originate in the asteroid belt between Mars and Jupiter, and were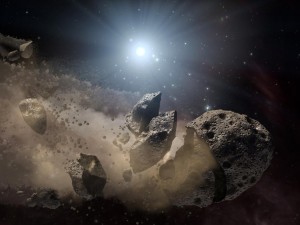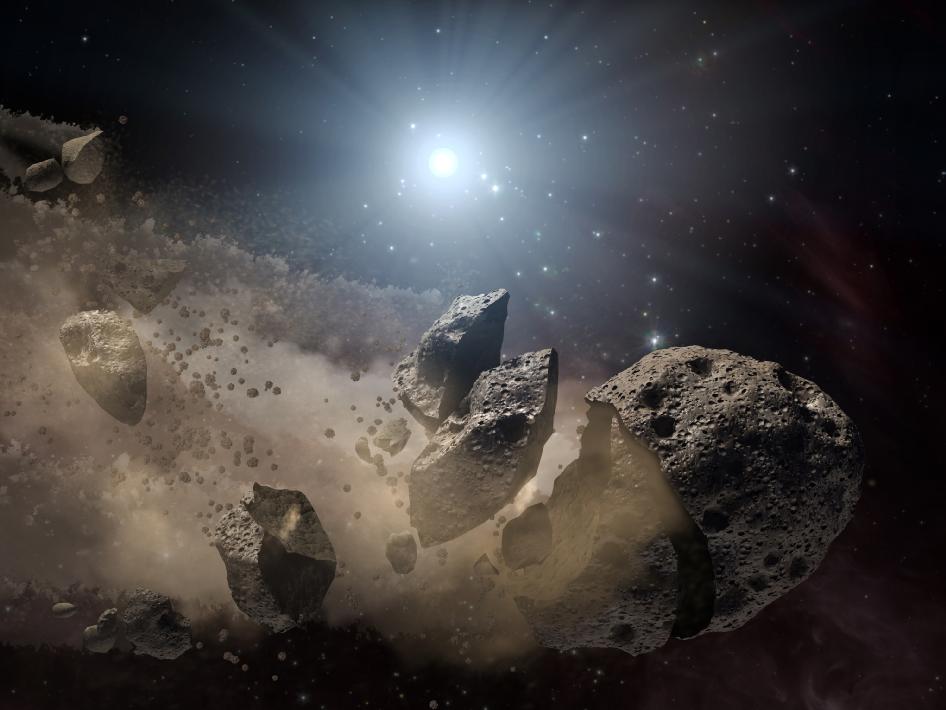 formed early in the history of the Solar System ~4.56 billion years ago. These fragments of asteroids were either knocked out of their orbit of the Sun, and into Earth-crossing orbits, through collisions with other objects, or through the interaction of gravitational forces exerted by the Sun and Jupiter.
How do we know meteorites come from space?
Meteorites that come from the asteroid belt are about the same age as the solar system, approximately 4.5 billion years old. No Earth rocks are this old, because they have all been repeatedly broken down and reformed by terrestrial geological processes such as erosion and plate tectonics.
Which asteroids do they come from?
While it is difficult to pinpoint specific asteroids as parent bodies of specific meteorite types, comparison of meteorite data with data from asteroids from Earth-based observations and spacecraft can help to define likely sources of some meteorite types. For example, data collected by NASA's Dawn spacecraft has strengthened the theory that the HED (Howardites, Eucrites and Diogenites) group of achondrites formed in the crust of asteroid 4-Vesta
(This mosaic synthesizes some of the best views the Dawn spacecraft had of the giant asteroid Vesta. Image credit: NASA/JPL-Caltech/UCAL/MPS/DLR/IDA)
.
Meteorites from a tracked asteroid
The small asteroid 2008 TC3 was first discovered October 6th, 2008, by an automated telescope at Mount Lemmon in Tucson, Arizona. The asteroid was tracked closely as it entered Earth's atmosphere and exploded approximately 37 km above northern Sudan's Nubian Desert early the following morning.
The meteorites recovered from this fall, named Almahata Sitta, are extremely interesting, as the specimens exhibit multiple distinct lithologies, ranging from ordinary chondrite to bencubinnite. The stones from this unprecedented event continue to provide key information about the composition of asteroids.
Do we have meteorites from other planets?
Some meteorites come from the Moon and Mars. These lunar or martian crustal rocks were ejected into space when another (asteroidal or cometary) object collided with the Moon or Mars with enough force to launch some of the impact-produced debris into Earth-crossing orbits.
How do we know they're from Mars?
Martian meteorites are distinguished from Earth rocks and other meteorite types by their chemical and mineral composition, as well as their age. Moreover, gases trapped in shock glass in martian meteorites have been matched to measurements of the martian atmosphere taken by the NASA Viking mission in 1976.
Nakhla, martian achondrite. Image ⓒ ASU/CMS
How do we know they're from the Moon?
Because we've been there! Lunar meteorites are identified by their unique chemical and mineral characteristics indicative of their origin on the Moon, mainly based on comparison to lunar rocks returned to Earth by the Apollo and Luna missions.
Did you know that the first ever carbon analysis of lunar rocks was done at the ASU Center for Meteorite Studies? Learn more about it here!
Do we have any confirmed meteorites from Venus or Mercury?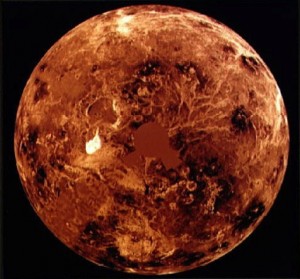 Not yet, but there could be pieces of both planets in existing meteorite collections, waiting to be identified. Data from NASA's MESSENGER mission could help to identify potential mercurian meteorites, while venusian meteorites might be distinguished using data from the Vega 1 and 2 landers, and the Magellan spacecraft.
Venus. Image credit: SSV, MIPL, Magellan Team, NASA