Catch up with Center alumni through this periodic feature!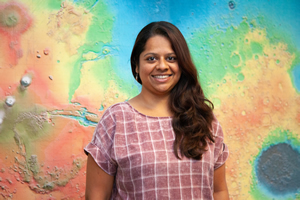 Dr. Prajkta Mane received her doctoral degree in 2016, from the ASU School of Earth and Space Exploration. Her dissertation research in the Center (Isotopic Investigations of Meteoritic Materials: From Earliest-Formed Solids to Planetary Bodies) focused on the beginning of our Solar System, including events such as the formation of the first solids as well as the accretion and differentiation of planetary bodies, as recorded in meteoritic material
She is presently a Visiting Scientist at the Lunar and Planetary Institute (USRA) / NASA Johnson Space Center, where her current research focuses on the study of chemical, microstructural, and isotopic characteristics of meteorites. She analyzes Calcium-Aluminum-rich Inclusions (CAIs) to decipher the chronology of early Solar System events, observes the recorded nucleosynthetic anomalies in them, and studies their microstructural characteristics to determine the mechanisms of CAI formation. She also analyzes martian meteorites for their hydrogen isotopic composition to understand the evolution of martian water reservoirs.
Dr. Mane has a strong interest in developing new laboratory techniques to study cosmochemistry and isotope geochemistry of meteorites and samples returned from various planetary missions in order to significantly advance knowledge of the building blocks of the Solar System.