Join the Center for Meteorite Studies and School of Earth and Space Exploration for the next spring ASU Earth & Space Open House!
Friday, April 13, from 6:15 PM to 9:30 PM on the ASU Tempe Campus
Open House:
From 7:30 PM to 9:30 PM, telescopes next to the James Turrell Skyscape art installation, a short distance from the building. will be pointed at celestial objects of interest.

Enjoy hands-on activities and take in a planetarium show in the Marston Theatre!
For more information and a complete schedule of events for ASU Earth & Space Open House, voted best place to catch a meteor shower by the Phoenix New Times, click here!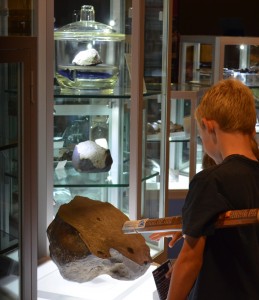 Open House is in ISTB4, with telescopes located next to the James Turrell Skyscape art installation, a short distance from the building.
Open House is a rain or shine event! While the weather may not always look promising for telescopes, there's a fantastic array of interactive exhibits and displays inside ISTB4, as well as the 3D Astronomy Show!
The Center does not offer identification services for potential meteorites at Earth & Space Open House.
Keynote lecture:
Chasing Gravitational Waves
Butler is an astrophysicist interested in the properties and evolution of the early universe. His current research focuses on experiments to observe and study astrophysical explosions and to use these to probe the first stars and galaxies and their environments.
The recent discovery of gravitational waves by Advanced LIGO and Virgo has vindicated a century-old prediction of general relativity, resulting in this year's Nobel prize for physics. Most importantly, the detection of simultaneous electromagnetic radiation, first in gamma-rays and then as a fading x-ray/optical/infrared/radio afterglow, establishes that these events are real and associated with astrophysical phenomenon already somewhat well-studied. The combined detection and followup effort establishes a new window into the Universe and a new way of studying astrophysical objects.
I will discuss our efforts to chase gravitational wave triggers using ground-based, mostly robotic telescopes. I will also discuss the event from August 2017, which reached us from a nearby galaxy 140 million light years away. Studies of the August 2017 event constrain fundamental physics and teach us about the Universe's brightest explosions (gamma-ray bursts), about the merging and exploding of neutron stars, and about the origin of precious metals in the Universe.
Our community is well-equipped to chase and study future gravitational wave events, presuming more occur on a regular basis.
Event Schedule
6:15 p.m. — Doors open
6:45 p.m. — 3-D Planetarium show*
7:30–9:30 p.m. — Telescopes open for public viewing
7:40 p.m. — Keynote lecture
8:50 p.m. — 3-D Planetarium show*
9:30 p.m. — Event ends
*The two 3-D planetarium shows and keynote lecture will be held in the Marston Exploration Theater. Please note that seating is first come, first served. Doors to the Marston Exploration Theater will open five minutes before the start of each show and the theater will be emptied following each presentation.